Adonit has developed a platform for businesses and organizations that combines real-time fingerprint and signature recognition to ensure digital tasks are only completed by the intended individual. Chief Technology Officer Jasper Li, shares more details with us in this interview with TechBullion.
Q: Please tell us your name and about yourself?
A: Hi, this is Jasper Li. I am CTO of Adonit and in charge of the next generation of product technology. 10 years ago, we noticed that tablets will be the next popular product for productivity but it lacks a good accessory for it. Stylus was one of the products that needed big improvement. So, that was why we started with stylus and all the following product lines. We believe smarter products can bring not only more convenient tools for users but also help people focus on innovation and creation.
Q: What is Adonit and what unique services do you provide?
A: Adonit is an award-winning consumer electronics manufacturer with the mission of crafting tools that empower everyone to create, make, and do more in the modern workspace. While we are most well known for our expansive selection of active and passive stylus for Apple, Android or Microsoft devices, we are always striving to create new solutions to solve real-world problems in an ever-changing digital landscape. That is what has led us to develop Adonit Authenticate, our first hardware/software solution for B2B application that utilizes real-time, multi-factor user authentication for the most secure digital information exchange possible. This is possible thanks to the combination of a physical digital stylus with a built-in fingerprint reader, as well as industry-leading signature recognition software and data transfer capabilities that requires these two unique identifiers to be present to complete digital tasks.
With our combination of consumer and B2B offerings, Adonit now provides the best tools for any activity, whether it's navigating a tablet and digital art, opening a bank account, signing an important healthcare form, notarizing a document, or even taking a standardized test.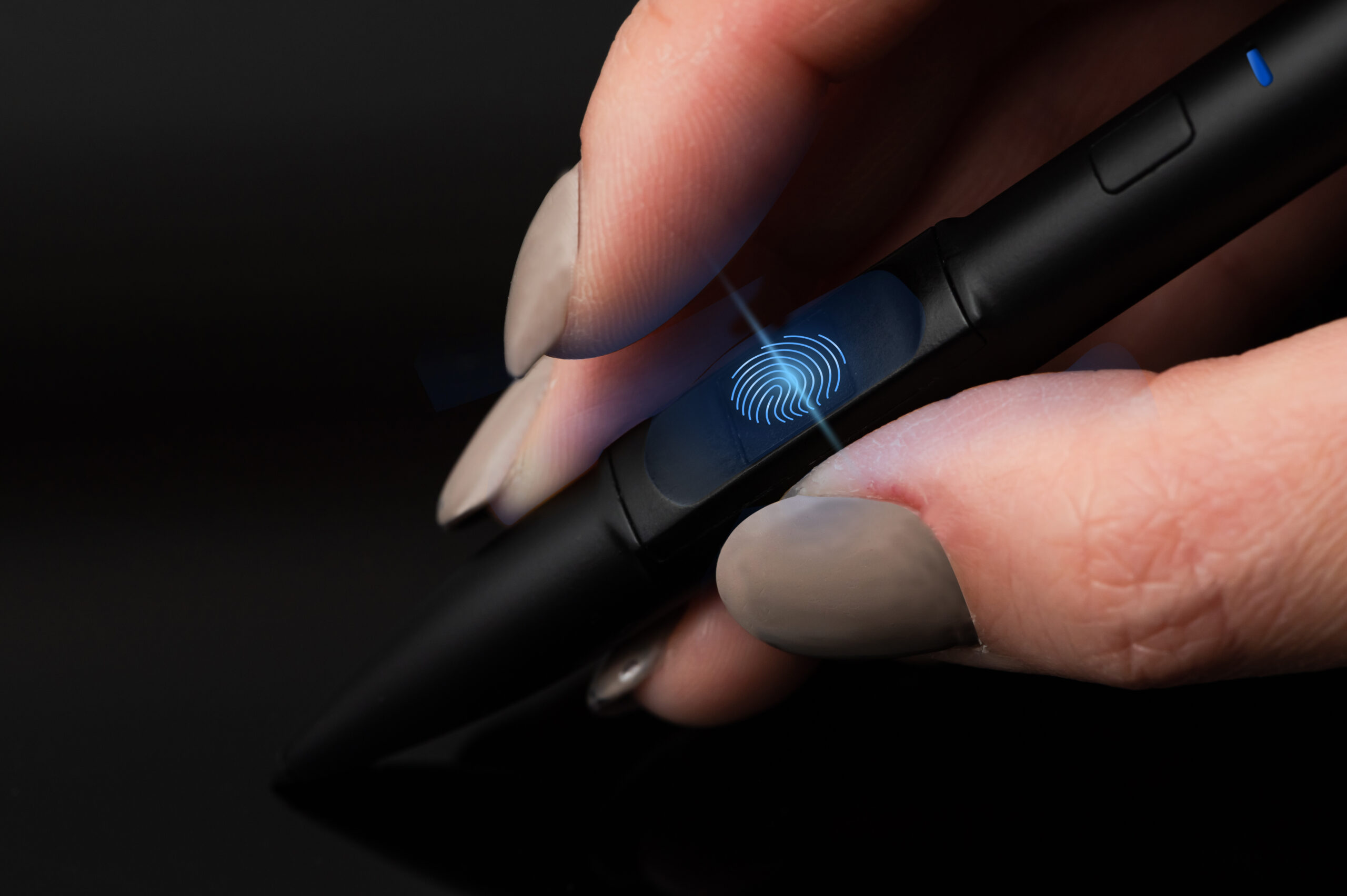 Q: The FTC has reported that 4.7 million identity theft and fraud reports were received in 2020, tell us more about these fraud reports and the implication?
A: Fraud and identity theft are unfortunately prominent in today's digital world, and while there certainly have been measures put in place to help mitigate these actions, there is always room for improvement as technology becomes more commonplace. While all fraud and identity theft is a very serious issue, we have been focused on making sure both individuals and businesses data in critical industries is most secure, such as financial documents or healthcare forms. The FTC also reported there were around 1.4 million reports of identity theft received in 2021 that included complaints related to consumer issues such as problems with banks, credit bureaus, lenders, and more. This is where the Adonit Authenticate steps in: using our two factor authentication technology to ensure the identity of the signer cannot be stolen or forged, unlike other popular signing solutions that don't utilize the extra level of security. 
Q: So the Adonit Authenticate platform helps businesses and organizations mitigate fraud. Could you give us a walkthrough of this platform and how it works?
A: Adonit Authenticate's technology is very easy to use, and some of the processes may seem very familiar, like scanning a fingerprint. In order to identify users moving forward, Adonit Authenticate would first need to capture users' fingerprint and signature and store it for reference. Saving a fingerprint is completed by placing the finger (typically the thumb based on how people hold a stylus or pencil) on the fingerprint reader numerous times to capture multiple angles and placement, similar to various cell phones and smart locks on the market. Once that step is complete the user will be asked to write their signature several times in a row to capture all of the nuances individuals have when they sign their name. With the help of our software partner Birosign and their signature authentication algorithm, that signature will then also be saved and referenced for accuracy every time the user signs a document. This information  would be stored on the businesses or organization's cloud service of choice and can be accessed by IT departments or other entities as needed.
Now that the profile is complete, every time Adonit Authenticate's platform is used that data will be referenced, and both forms of identification will be needed to access and complete digital documents. For example, if someone wanted to sign a digital deed to a house, and only that person could access the deed, they would have to place their finger on the stylus and their fingerprint would be verified in less than a second, then the signature would need to match what is on file as well, thus creating two levels of instant authentication that is virtually impossible for an unwanted party to replicate.
What's great is Adonit Authenticate is flexible based on the size of a business or organization, and can be customized to increase or decrease the level of security. Whether you are a small doctors office of 8 people, a banking organization with 800 people, or a school district with 8,000 students, we can tailor the service to meet any needs. 
We have a great video at https://www.adonit.net/concepts/security-solution/ that shows just how easy Adonit Authenticate is to use.
Q: How is Adonit Authenticate so accurate in capturing fingerprints and signatures?
A: We can start with the 508 DPI fingerprint sensor, which not only captures a hyper-accurate profile, but also relays information back to the software instantaneously to either accept or deny access. When it comes to our signature capturing and recognition, we've implemented a stylus that detects 2,048 levels of pressure sensitivity that helps capture even subtle nuances. With the help of our partner Birosign and their expertise in signature recognition algorithms, we ensure that fraudulent signatures will always be detected.
We understand how important the accuracy of these identity factors are and hold ourselves to the highest standards. When it comes to verifying the identity of a student taking a standardized test, verifying who is logging into a bank account, ensuring the correct person is signing a corporate document, or even helping to avoid doctor identity theft for prescriptions or protecting patients personal information, people can rely on Adonit Authenticate.
Q: On the features like high accuracy identity verification, what is the relationship between Adonit and collaborating partners like Birosign?
Birosign's award-winning signature verification is an amazing addition to Adonit Authenticate. Birosign supports adaptability by analyzing the characteristics of any individual signature with their proprietary algorithm. Birosign provides the brain behind the secure technology in which we can verify the identity of the signer while we are the brains behind the overall software and the two factor authentication related to fingerprint recognition. We are excited about this partnership and look forward to the innovative ideas that can come from this collaboration. 
Q: The 2+ Factor Authentication technology has been widely used by many businesses, what makes Adonit's special?
A: What truly makes Adonit Authenticate special is the unmatched level of premium hardware, hyper accuracy to ensure proper identification, and our flexibility to be able to provide this vital service to anyone, no matter the scale. This, along with our ability to incorporate this technology into an existing cloud system makes Adonit Authenticate the ideal solution for future digital information transmission.
Q: How does Adonit's software guarantee High-Speed Data Transmission?
A: The BLE 5.0 makes the data transmission between the stylus and the App have even lower latency than legacy Bluetooth. WIth BLE 5.0, it provides not only lower power consumption, but also fast data transmission.
Q: How does Adonit incorporate fingerprint and signature recognition data into secure cloud services?
A: Fingerprint authentication is the first layer of securing your authorization, when fingerprint passes, then it will allow the user to use signature as a second layer of authentication. Signature recognition algorithm is stored on a secured cloud to prevent local tablet hacking problems.
Q: Do you have any available opportunities for investors and more partners at Adonit, and any more information for our readers?
A: We encourage any businesses or organizations that are interested in learning more about Adonit Authenticate to visit https://www.adonit.net/concepts/security-solution/ and fill out the contact form. We are always happy to hear from forward-thinking professionals looking toward the future of this digital security revolution.