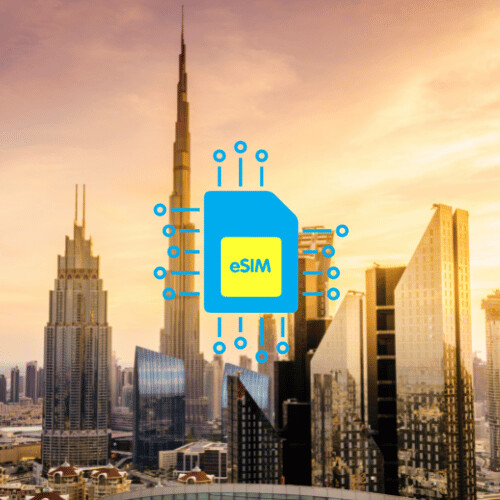 Want access to mobile data on your smartphone when traveling to the UAE? One of the best solutions available for this is eSIMs for UAE travel. Whether it is a business trip or a personal trip, you may face connectivity issues if you don't have an internet connection. Though you may find many internet options in UAE, an eSIM is a better, more convenient, and budget-friendly way to connect to the internet. However, as there are multiple eSIM options, choosing the right one can be difficult. Here is a guide to help you know more about an eSIM and tips to choose the perfect one.
What is an eSIM?
Unlike the traditional SIM, an eSIM is an embedded sim that's built-in to your smartphone. The best part is that eSIMs can be activated virtually after buying your preferred data plan. All you have to do is scan the QR code you receive in your email to activate it. These virtual SIM cards allow users to connect to the internet without using a physical card. To use the eSIM, you can also use the mobile app offered by the respective service provider.
Tips to Pick the Best UEA eSIMs
Here are some crucial factors to consider while buying an eSIM:
Check the Coverage- Before buying, ensure that the eSIM offers decent coverage in the country you plan to travel to.
Internet Speed- Not all eSIMs have the same internet speed. For a faster internet connection, make sure your eSIM supports a 4G network.
Data- Determine how much data you will be using during your travel. For instance, if you plan to stay in UAE for around 20 days, you may need at least 15 to 30 GB of data. Remember, the cost will increase when you choose a plan with a higher data limit.
Compatibility- To avoid any issue while using an eSIM, you should check your device's compatibility. eSIMs don't work on every smartphone. Only the latest models support this feature. You can check the list of compatible phones on the website of the eSIM service provider.
Benefits of Buying the Best eSIM for the UAE
One of the primary benefits of using an eSIM in Dubai is that you can enjoy internet access 24×7 no matter where you are in the UAE.
Having an eSIM-compatible device allows you to switch between network providers faster.
While using an eSIM, there is no need to activate data roaming, which can be pretty expensive.
Getting an eSIM is easy. You can buy one online and activate it within a few seconds.
If you are traveling in a group, you can also share your mobile data with others using eSIM's data-sharing feature. It works like a pocket Wi-Fi.
Another significant benefit is that you can avoid using public Wi-Fi networks that are vulnerable to hacking.
Closing Thoughts
It is advisable to choose the best eSIM in the United Arab Emirates-based on the available eSIM offers. eSIM service providers like 3, eSIMGo, GlobalSIM, DTAC, and AIS offer some of the best eSIM data plans that will surely meet your budget and requirements. Get one now and travel without any worries.